One thing I do miss while on my new eating plan is pasta. I have always loved pasta and for many years dedicated Saturday night to pasta dinners. But eating paleo has changed all that. I still want that comfort food for dinner though. So what to do? Recreate it, of course. Now no one is ever going to think that cauliflower is pasta but nevertheless, I made this baked cauliflower and it was so good, the hubby went for seconds!
To make this work, since I also am off of dairy, I had to make a cauliflower ricotta. So, this month you get two recipes, three, if you count the sauce, for the price of one! You can find my spaghetti sauce recipe here.
Cauliflower Ricotta, Makes 1 1/2 cups. From FrugalFreebiesandDeals.com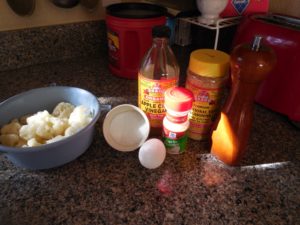 Hardware
Pot
Strainer
Clean Dish Towel
Measuring spoons
Food Processor
Ingredients
16 oz frozen cauliflower
1/2 tsp garlic powder
1/2 tsp salt
1/2 tsp pepper
1 tsp apple cider vinegar
1 T nutritional yeast (Optional)
1 egg (optional if you're not using this in a baked dish)
Directions:
Cook cauliflower according to package directions.
Allow to cool for 5 – 6 minutes
Pour into a colander and drain all water.
Spend 1 – 2 minutes squeezing water out of the cauliflower.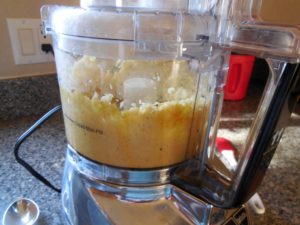 Add all ingredients to the food processor and blend until smooth.
Baked Cauliflower from http://www.delish.com/cooking/recipe-ideas/recipes/a57630/cauliflower-Baked-ziti-recipe/
Hardware
Pot
Strainer
9 X 13 baking dish
Large Bowl
Cutting Board
Knife
Ingredients
1 T olive oil
1 medium onion, chopped
2 cloves garlic, minced
Pinch red pepper flakes
1 lb ground beef
Salt and pepper to taste
2 T tomato paste
1 tsp dried oregano
1 28oz can crushed tomatoes
2 T thinly sliced basil plus more for garnish
1 large head of cauliflower (about 3 cups) cut into florets, blanched and drained well
1 1/2 c ricotta
2 c shredded mozzarella
1/2 c freshly grated Parmesan
Note 1: I'm giving you the directions as listed in the recipe. I used the cauliflower ricotta above and vegan mozzarella. I cheated and used the real deal parmesan. There is no paleo substitute for parmesan. So if you want to keep this totally Paleo, just skip the parm.
Note 2: The above ingredients are for making the sauce. You can use this one or mine, see the link above.
Directions:
Preheat oven to 375F.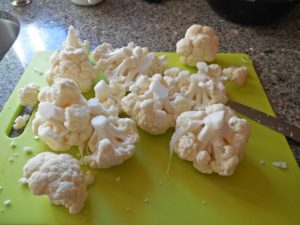 Heat olive oil in a large saucepan over medium heat. Add onion and saute, stirring often, until onion is soft, about 5 minutes. Stir in garlic and red pepper flakes and cook for one minute. Add meat and season with salt and pepper. Saute until browned. Drain fat.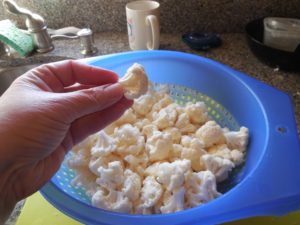 Add the tomato paste and oregano and cook over medium heat for 2 minutes more, until slightly darkened. Add the crushed tomatoes and bring sauce to a simmer. Reduce heat and cook, stirring occasionally, until slightly reduced and flavors have melded, 10 to 15 minutes. Remove from heat and stir in basil.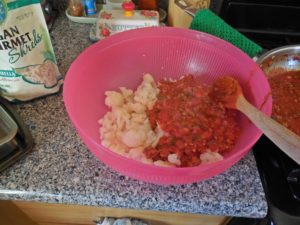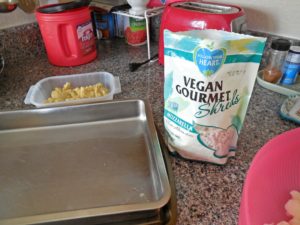 In a large bowl, pour the sauce over the cauliflower and stir to combine. In a large, oiled baking dish, place half the cauliflower in an even layer.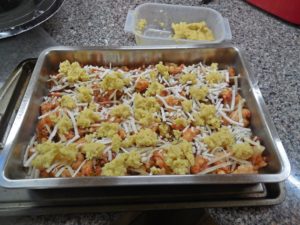 Dollop all over with half of the ricotta, and sprinkle with half of the mozzarella and parmesan. Add the rest of the cauliflower in an even layer and top with the remaining cheeses.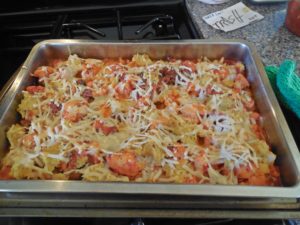 Bake until the cheese is melty and golden, 25 minutes. Garnish with basil and serve.
Note 3: I only used half of the sauce on the cauliflower.
Enjoy.
Thanks for stopping by Chicklets in the Kitchen. Do you have a favorite baked dish to serve family or guests? Please tell us about it in the comments box below if you feel so inclined.
My name is Connie Cockrell and I write SciFi, Fantasy, Mysteries, and a lot of other things and you can find links to all of my books at www.ConniesRandomThoughts.com.