Coconut-Lemon Whip
I apologize for the lack of posts. March and April were extremely crazy for me but I didn't forget about you. April saw me take an actual vacation, to see my daughter in southern California. We enjoyed the beach (cold!) and Solvang, CA, (hot!), and my daughter's and her room mate's new house. It's small, but the back yard has producing fruit trees. One was a Meyer lemon, the lemons ripe and ready to pick. So of course, I brought home five of them. What else could I do but make a dessert?
I'm still sticking to my Paleo life-style. Whatever your eating style, there's nothing wrong with whole, fresh food, especially straight from the tree! Fair warning, because of the coconut oil and milk, this isn't low fat but it is "good" fat. Enjoy in moderation. It makes four 8oz, ramekins of dessert.
Paleo Lemon Curd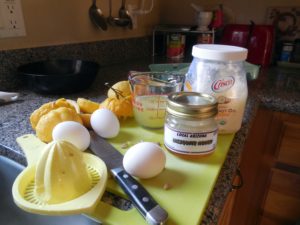 Hardware
Sauce Pot
Strainer
Measuring cups and spoons
Knife
Cutting board
Zester or Micro-plane
Ingredients
1/2 cup juice: 5 Meyer Lemons (6 or more regular lemons depending on how juicy they are.)
1 T Lemon zest
3 eggs (whole)
1/4 C Honey
6 T Coconut Oil
Directions: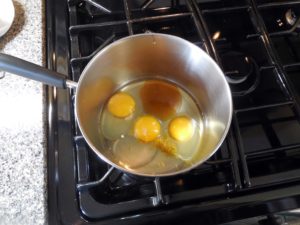 Over gentle heat add the zest, eggs and honey to the sauce pot and whisk until the mixture is pale yellow and thickened.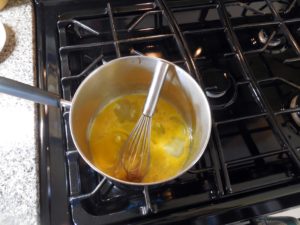 Add the juice and 2 T of the coconut oil. Whisk and adding more oil as soon as the previous additions have melted. Whisk and add until all the oil is added and the mixture is thick and bubbly. Don't stop whisking. It will burn very fast.
Strain through a fine mesh strainer into a large mixing bowl. Cover and put in the refrigerator several hours or overnight. I do let it chill overnight.
Coconut Whipped Cream
Hardware
Large Mixing Bowl
Hand Mixer with Whisk Attachment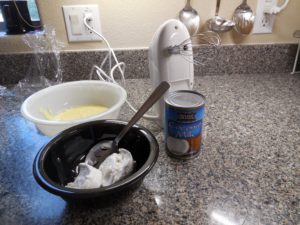 Ingredients
14 oz Coconut Cream (TastesLovely.com recommends Trader Joes coconut cream. If you're like me, Trader Joes is a hundred miles away, but my local grocery does carry canned Imperial Dragon Whole Fat Coconut Milk. Refrigerate that overnight, open, scoop out the coconut cream which will be hardened at the top of the can. Save the coconut water to drink or to use in a sauce. You won't have the full 14 ounces but you can either ignore it, which I do, or use 2 cans, storing any extra coconut cream in the coconut water until you're ready to do an Indian chicken curry or other savory dish.)
1 T honey. Optional. (I've never added the honey to the cream as I like the tartness of the lemon curd and the whipped cream without it.)
Directions:
In a large bowl, scoop the cream. Don't use the little bowl like I have in the picture unless you've planned to wash down your kitchen walls and cabinets. Which is what I had to do by using too small a bowl. Fair warning!
Using your hand mixer with the whisk attachment, whisk the cream and honey. It will be hard, so keep at it until you have a fluffy mix.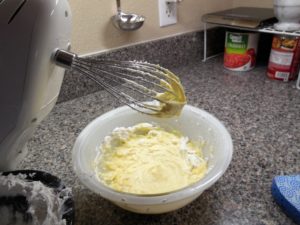 Whisk the lemon curd, to loosen it up and make it fluffy, then add the coconut whipped cream. Whisk until fully combined. You can cover and store the mixture or put it into ramekins as I did. To serve, top with more coconut cream or if you don't mind going off diet, regular whipped cream.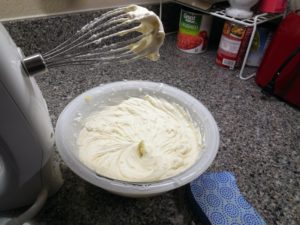 Enjoy.
Thanks for stopping by Chicklets in the Kitchen. Do you have a favorite dessert to serve family or guests? Please tell us about it in the comments box below if you feel so inclined.
My name is Connie Cockrell and I write SciFi, Fantasy, Mysteries, and a lot of other things and you can find links to all of my books at www.ConniesRandomThoughts.com.